I just posted this review on
Rockers Online
and decided to repost it here: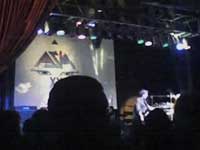 Tonight I went to see
Asia
, the original lineup, playing at the Canyon Club in Agoura Hills, CA. This show was a dream come true for me. I've been a huge Asia/John Wetton fan since the first time I heard "Only Time Will Tell" back in 1982 and it blew me away. I saw them live once in 1983 at the Forest Hills Tennis Stadium back in NY (with
Chris De Burgh
opening for them). But then
John Wetton
, who is my favorite singer, left and Geoff Downes continued the band with John Payne, whose singing I never really liked and who I never really thought fit the band's sound (I apologize to those of you who actually like him). I honestly tried to get into the new band, but other than maybe
Aqua
and the
Archiva
cds I just couldn't get into them at all, and I finally gave up after
Arena
and stopped buying them entirely. There was still John Wetton's great solo career, and I was lucky enough to see him live several times over the past few years, but I always dreamed of the original lineup of Asia getting back together. This year, for the 25th anniversary of the band, it finally happened!
I had been hoping to make the Long Beach show on Wednesday, but homework got in the way (Damn you, Maya!). But I already had my tickets for this show and wouldn't miss it for everything! So a friend (

chythar
) and I headed up there early, and got there shortly before the doors opened, only to find an already long line waiting to get in. The Canyon Club is a dinner theater, and we had the reserved dinner tickets, so we got to sit and have an overpriced dinner before the show, but it gave us decent seats where we could actually sit and enjoy the show. I'd heard a few days earlier that the show was close to being a sellout, and after seeing how many people were there in the standing room behind us I suspect it probably did sell out. It was a huge crowd, far more than I'd seen at any of the John Wetton solo shows I'd been to.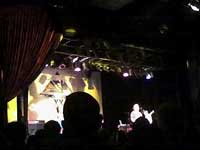 The band came on stage, and it took some of the beginning of the first song for them to get warmed up, but they quickly hit their stride and, once they did....WOW! They were incredible! The playing was so tight you'd think they actually had been playing together for the full 25 years! The band played for about an hour, then took a 15 minute break and came back for another set. They started with songs from the Asia CD, and said they'd be playing the full album, plus songs from previous bands. The first of those they played was Yes' "Roundabout", and I'd seen Yes with
Dream Theater
at the Gibson Amphitheater on a recent tour and Asia totally blew Yes away (then again Dream Theater totally blew them away that night too. Maybe it was just an off-night but Yes did not put on a great show). They also played songs from Emerson, Lake and Palmer ("Fanfare for the Common Man"), King Crimson ("In the Court of the Crimson King"), and one big surprise, The Buggles' "Video Killed the Radio Star" - not just Geoff Downes doing it as a keyboard solo like he's done in the past, but the full band did the entire song, with John Wetton singing through a megaphone at the beginning. Geoff even got all dressed up in a silver jacket and sunglasses like it was a Buggles video.
After the first set I was wondering if they were going to play anything from
Alpha
or
Astra
, but they started the 2nd set with acoustic versions of "The Smile Has Left Your Eyes" and "Don't Cry" from
Alpha
. They never did play anything from
Astra
, but I guess that's because Steve Howe wasn't in the band at the time. They had the expected keyboard and guitar solos, and Carl Palmer did an amazing drum solo during "The Heat Goes On". After they left the stage for the second time, they came back for an encore with another surprise, the B-side to the "Heat of the Moment" single, "Ride Easy". After that they finished the show with "Heat of the Moment" itself. I had actually spent some time earlier in the day figuring that one out on guitar for a Beginning Pop/Rock Guitar class I'm taking, and I was pleased to see that I seemed to have gotten it pretty much right!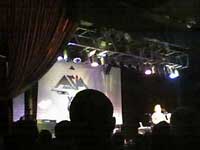 The response from the audience was great from the very beginning. Every single song got a standing ovation from those of us seated in the dining area. The band seemed to be really enjoying the response. John Wetton looked especially happy, and had a big grin on his face after seeing the response to the first song, and made comments on the great reception they got. It was good to see the band enjoying themselves so much, and I only hope that with such a strong response at the shows they'll decide to continue with this lineup in the future!
After the show Carl Palmer and Geoff Downes were there to sign merchandise (the line for that was out the door). Unfortunately John Wetton wasn't there, but someone behind me said they heard he had a cold. But I at least got 2 of their autographs, and got to tell them what an incredible show it was and that I hope there will be many more to come! All in all, it was an amazing show, and definitely one of the best concerts I've ever been to.
BTW, I got some not too great pictures with my cell phone like the ones above, so I'll be adding more pictures to the Asia page.